50th Anniversary Coffee Table Book



13" x 10" Hardbound book

100 full colour pages

Decade by decade summaries

Club traditions

International tours

Team pictures by year

Forewards by team founders

Best and rare pictures

Pitches history

Women's club history

Opponents list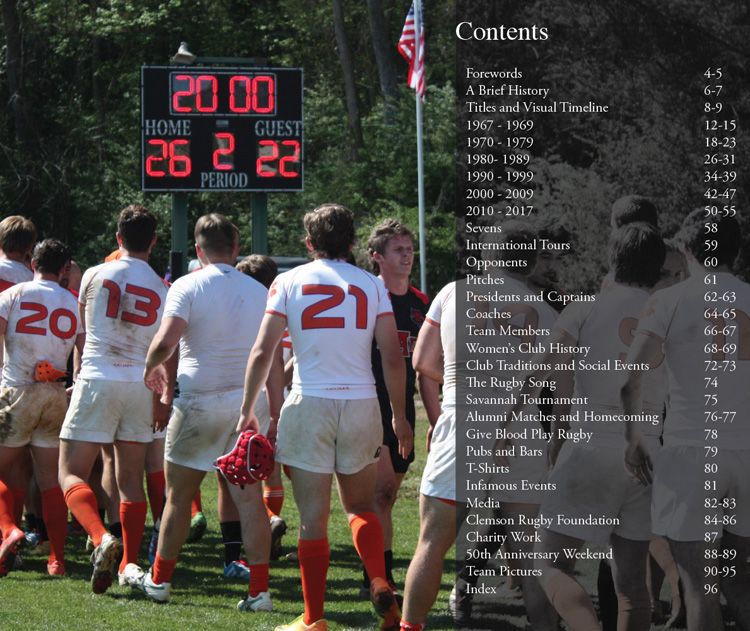 Click To View The Sample Pages
| | | |
| --- | --- | --- |
| Page 4 | Page 10 | Page 24 |
| Page 40 | Page 44 | Page 46 |
| Page 52 | Page 67 | Book Credits |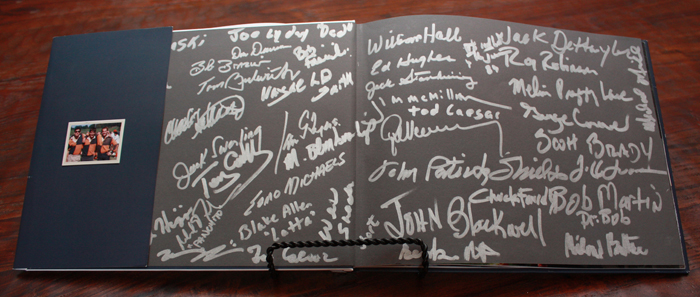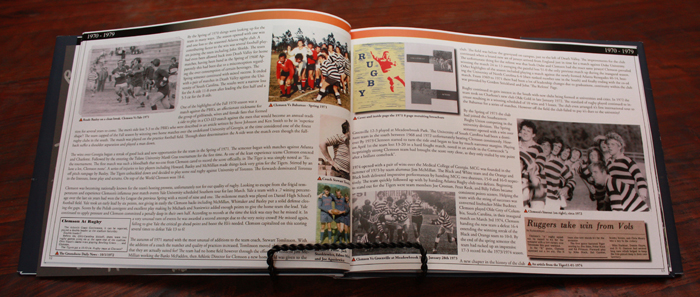 Click to get your copy of the book with a donation of $250 or more.
All profits from book sales will go to the Clemson Rugby Foundation.

The book is now an exclusive item only available through contributions of $250 of more.

Books are in stock and will ship within 2 days after your donation.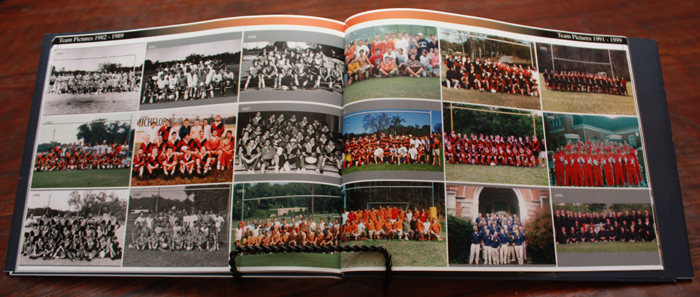 "Mine came today. I felt like a school kid on Christmas morning. The memories and friendships with my Rugby brothers on and off the field can only be understood by us who were there. Thanks for all your hard work."
Doug 'Jumbo' Hutson
"Spent most of last night flipping pages, stopping, getting up, showing the wife, then explaining some part of CURFC lore...….over and over and over.....Love you Ellen Bradbury Piquette!!!!!"
Michael 'Metal' Piquette
"Book just arrived. Well done sir. Not the easiest of tasks to take on but I will say you did a fantastic job capturing the spirit of Clemson Rugby across the generations. Thank you for the dedication to this lasting legacy!"
Jim 'Ming' Doherty
"Received the book today, very nicely done!!!! You did a wonderful job in documenting Clemson Rugby you should be proud! Brings back such great memories I will throughly enjoy."
Joe Sullivan
"Got mine today. Immediately read it cover to cover. Informative, thoughtful, comical, and brings back fantastic memories of my time as a Clemson rugger. Thank you for the time and effort. I love it."
Jason Clarke
"Just received mine today. Absolutely amazing, and I want to thank everyone who helped pull this together!"
Nick DePrimio
"Got mine yesterday and it is fantastic! Great job James Baxter and to everyone who helped contribute content."
Colton Thompson
"wow!"
Mike Craven
"What an incredible job you did on the book! It's fantastic and serves to document the foundation of Clemson rugby for those that follow - extremely well done. Kudos to you, sir. All of us that love Clemson rugby owe you one."
Patrick Duffy
"Just got my book yesterday. You did a great job on it, nice work!"
Shane Kisner
"Awesome job. Makes me want to go out and play again!"
Matt Drewello
"Fantastic!"
Ethan Picone
"It's amazing thanks for capturing this history!"
Becky Van Evera
"I received the 50th Anniversary book today. This is an absolutely incredible book – what an effort and end result on your part. I look forward to reading it from beginning to end."
Henry Wolfe
"I have enjoyed reading the stories across the years and seeing the pictures. I am sure it was quite a task for you to pull all those bits of information together into a coherent story that is perhaps especially meaningful for those of us from the early years."
Guy Osborne
"The book is great and brings back wonderful memories. Little did we know in 1967 that Rugby would be alive and well 51 years later. Thanks for memorializing it so well. Great job!"
Jack Swerling
"Just returned home and saw the package on my counter. Opened it up and there it was. Lots of memories came flooding back"
James Brown, '96
"Got mine, and oh wow! Much to digest here."
Edmo Michaels, '71
"Love the book. Reading again and again."
Reade Baxley, '71
"I received my book yesterday. Unbelievable. Longest book I have ever read too!"
Dutch Jones, '06
"The book is amazing! Well done!!"
Tyler Thompson, '12
"I spent all evening reading it. You did an amazing job putting it together! Not just the photos, but especially the write-ups and stories ... truly amazing. Thank you again"
Vladimire Paulen, '03